Northern Pathways Equine Center
We All Deserve to Reach Our Full Potential.
Our Mission Statement...
"At Northern Pathways Equine Center, we serve our community by providing a sanctuary for all, promoting mental, physical, and emotional health, improving interpersonal relationships, and increasing self-reliance through healthy client-centered activities with nature, horses and each other."
At Northern Pathways, we know all lives need nurturing to succeed, and we believe everyone should have the chance.
We're dedicated to ensuring there's a place for healing, equine-related services in our community.
You can help us make that happen. Just click the button below for more details on how!
Support Our Organization
There are lots of ways we can use undesignated donations. Our operational expenses include everything from structural maintenance to party supplies!
Support Our Programs
Have a particular area of interest? Donate in support of one of our programs!
Support Our Horses
Love our equines? Adopt one of them to get pictures, updates on activities, and even a chance to come meet your "adoptee!"
---
---
What Our Visitors and Clients Say...
From Mariya, HOOFPRINTS Participant...
"The horse farm helps us forget about all of our problems for a while, while we relax, play with horses, and heal."
"Briyan, Sofiya, and us adults really enjoy time on the horse farm. Briyan has special needs since being born - our miracle boy with a hydrocephalus condition, dealing with seizures, medications, and many lifestyle changes for us. The doctors and therapy organizations recommended the treatment of horse therapy for our family.
Our kids love riding the horses, feeding them, cleaning the barn, brushing the gentle horses, hugging the animal's furry hair, and time on the golf cart rolling through the fields! We live in the city, so it's a huge deal for our family to be out on the nice, quiet horse farm relaxing, being a family, and watching the kids have so much fun. They're laughing, full of smiles, excited, playing, making lots of rewarding memories, and getting the best gift of all; natural healing.
We are truly blessed to be able to watch Briyan and Sofiya have so much passion being on the horse farm. We greatly appreciate all the support and donations to keep the horse farm therapy program growing to help more families with disabilities."
From Kat, a TRAILS Participant...
"This is a place where anxiety no longer exists."
"The horses' will and persistence opened to me, gave me access and acceptance beyond words. I've learned to let go and gain everything... "
(Kat, after finding support through TRAILS, stayed with NPEC as a volunteer. She assists in many areas. planning and tending the farm's gardens each year and helping with horse management. She is also working to form her own small business, designing and making crocheted items and garden decor.)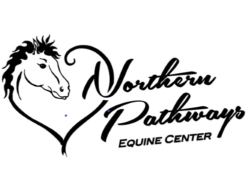 We Would Like To Thank...
Bruce Allen
Bill Bekkering
Authentic 231
Blarney Castle Oil/Dennis McCarthy
Construction Design Inc.
Dr. Shrink
Kathryn Kenney
Little River Casino
MacBeth & Co.
Manistee Command Officers' Association
Manistee Police Officers' Association
MS Creative Services, Inc.
The Newman Family
Northern Property Maintenance
One Hundred Women Who Care
One Hundred Men Who Care
Onekama Guild
Geoff and Mary Paine
Pegasus Online
E. F. Van Dorp Family Advised Fund (of the Community Foundation of the Holland Zeeland Area)
Parkdale Auto
Kelsey Purgiel
Ann and John Query
Anne and Bob Shrum
Trigenta Club
Gwen Van Dorp
Richard and Pam Van Dorp
The Van Dorp Family
Thomas Wagar
Connie Wagar
Weezie's Garden Center
West Coast Farm Service
Linda Wright
Thrivent
Help Us Help Our Community.